Campaign to Raise Awareness about EU Activities Aiming to Support Employment, Vocational Education and Training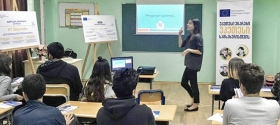 29.10.2018
We recently took part in an information campaign about the initiatives of the European Union (EU) to support employment and vocational education and training (EVET) sectors.
As part of the campaign, PMCG, together with representatives of the Ministry of Education and Science, Culture and Sports, and the Ministry of Internally Displaced Persons from Occupied Territories, Labor, Health and Social Affairs of Georgia visited educational institutions to raise awareness and demonstrate the benefits of EU activities.
The campaign was conducted as part of the EU project "Employment and Vocational Education and Training (EVET) Communication Unit," which aims to increase awareness about the EU and its activities in Georgia in the areas of EVET. Moreover, it seeks to emphasize the short- and long-term impacts these will have on improving people's lives and the country's development.
The EU is actively involved in developing vocational education and training (VET) in Georgia and introduces programs to support matchmaking of employers with potential employees through various activities.
Accordingly, during the campaign, PMCG visited 10 educational institutions around the country – universities in Telavi, Gori, Kutaisi, Akhaltsikhe, Zugdidi, and Batumi, as well as four public schools in Tbilisi – and gave an opportunity to over 1000 students and pupils around the country to discuss their future education, career and employment plans with career guidance consultants and employment support service specialists.