Assisting the Ministry of Regional Development and Infrastructure of Georgia to Introduce Performance Evaluation Systems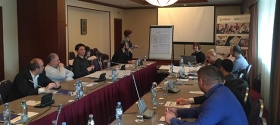 21.02.2018
We are working with the the Ministry of Regional Development and Infrastructure of Georgia (MRDI) to develop a performance evaluation framework, as part of a consortium led by Tetra Tech ARD, within the USAID-funded Good Governance Initiative (GGI).
The newly adopted Civil Service Law stipulates that performance appraisal is now compulsory for all agencies of the Government of Georgia (GoG) at all levels. This initiative is a significant part of its public administration reform.
As part of this pilot project, PMCG is assisting MRDI, its subordinate agencies and GGI's partner municipalities in Kutaisi, Batumi, and Akhaltsikhe to establish effective performance management systems.
In order to raise awareness about the importance and necessity of improved human resources (HR) policy, PMCG is conducting trainings covering the performance appraisal system, communication, leadership and other subjects related to personal development. At the same time, the project team will also develop guidelines for effective introduction of the system.