Assessing Safety of Sioni and Algeti Dams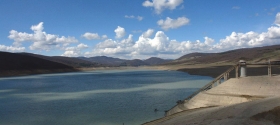 1.11.2018
We recently launched a new project aiming to assess two dams in the Kakheti and Kvemo Kartli regions of Georgia.
PMCG, as part of a consortium led by Temelsu, will assist state-owned company Georgian Amelioration LTD, which is under the supervision of the Ministry of Environmental Protection and Agriculture of Georgia (MEPA).
The project aims to inspect the condition of Algeti and Sioni dams, which feed Kvemo Samgori and Tbilisi-Kumisi irrigation systems, to evaluate their appurtenances and performance history, and to prepare dam safety assessment reports in accordance with World Bank policies.
In pursuit of its objectives, PMCG will implement dam safety measures, procure equipment recommended in the assessment, install an automated dam monitoring system, and establish an early warning system and associated preparedness plan. Moreover, PMCG will also provide capacity assessment of local authorities and training of operational and management staff in dam safety.
As a result, this project seeks to provide recommendations for remedial measures and safety-related measures necessary to upgrade these dams to an acceptable standard of safety.