All Set to Become USAID Prime Contractor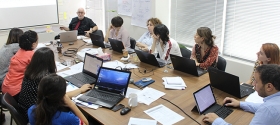 29.08.2018
On August 13-14, we hosted Mr. Gary V. Kinney, Vice President at Kinney Advisory Services and former Senior Contracts Officer at USAID, to deliver a training course for our team members entitled "Doing Business with USAID."
As part of the two-day training, Mr. Kinney shared his sound experience accumulated across four decades in commercial and U.S. government procurement, grants and contract issuance.
When talking about PMCG's professionalism and readiness for U.S. direct contracts, Mr. Kinney said: "I am talking about the experience that you have already developed over 10 years. You have built a very broad international original foundation and you have a presence in the USA. PMCG is a US small business. Part of growing a business organically is continuing to build knowledge and growing a business portfolio, and it seems that what you've been doing has been very successful". He added that PMCG has built up excellent knowledge and expertise that will be useful for the company itself and for USAID programs.
"This training was a unique opportunity for us to enhance our knowledge and understanding of the intricacies of working directly with USAID first-hand. We believe in professionalism and in the necessity of constant development, as these are central to our values. That's why we do our best to support our team members in developing various skills on a daily basis," explained Marika Gogoladze, Human Resources Manager at PMCG.