Supporting Rural SMEs in their Digital Transformation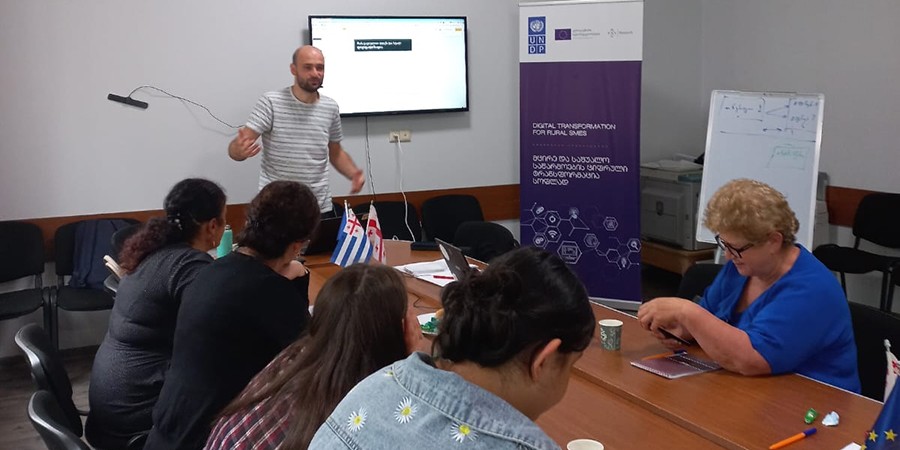 7.07.2022
On July 1-3, PMC Research Center (PMC RC), with support from the EU and the United Nations Development Programme (UNDP) underthe European Neighborhood Programme for Agricultural and Rural Development (ENPARD), conducted digital transformation training for local SMEs in Khulo Municipality as part of a project entitled "Development of Digital Transformation Support for Rural SMEs," funded by UNDP. 
Twenty-two local SMEs from Khulo Municipality attended the three-day training sessions, which covered marketing and finance and aimed at helping participants to digitalize their business processes. The trainings are to be followed-up with an individual coaching session with an experienced field consultant to deliver comprehensive targeted assistance to each participant.
"Attending this training was a very positive experience as I was always engaged in the process and could not believe how quickly the time passed. The training taught me the importance of advertising and being active on social media platforms, which is something that my business has lacked,"

said Natia Abuladze, a participant of the training and owner of Hotel Tkhiladziri in Khulo.
She added:
"Also, previously, I did not know how to account for my income and therefore struggled to calculate my profits and losses. This training helped me to organize basic financial processes in my business. I have already started working on a promotional video and financial database that I want to create for my business. I want to thank all parties involved in this training, as it was very interesting and useful."