Sharing Experience of Georgia's Public Financial Management (PFM) Reforms with the Kyrgyz Ministry of Finance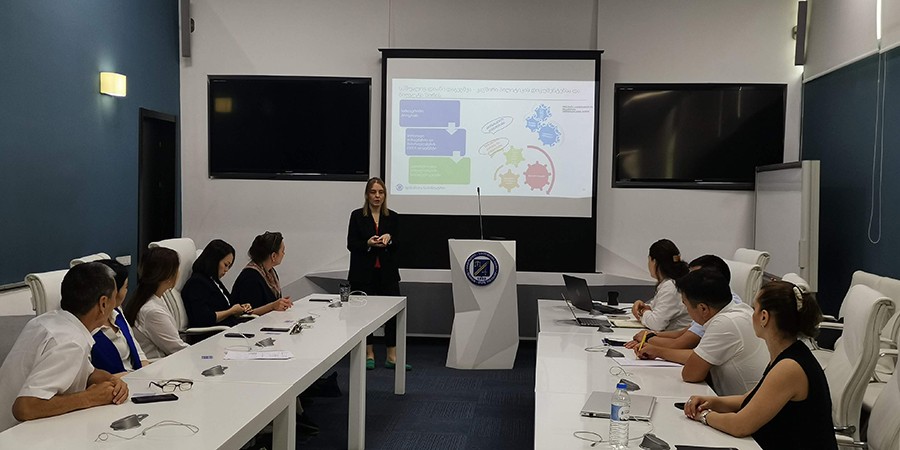 25.06.2022
On June 20-24, we, in partnership with the Ministry of Finance of the Kyrgyz Republic (MoF KR), and with the assistance of the Academy of the Ministry of Finance of Georgia, organized a study tour for a delegation of the MoF KR to the Ministry of Finance of Georgia to learn from the latter's practical experience in public financial management (PFM) reforms with a focus on program-based budgeting (PBB), as well as exchanging experiences between countries.
The delegation of the MoF KR comprised representatives of the Budget Policy, Sectoral Expenditure Planning, Public Sector Expenditure Planning, Social Spending Planning, Public Revenue Forecasting, Information Systems, and Modernization Departments of the MoF KR.
During the study tour, guests met with representatives of the Ministry of Finance of Georgia and partook in a three-day workshop, during which representatives of the MoF of Georgia presented and shared their experience on topics such as treasury operations and unified treasury account, revenue identification and distribution among budgets, a unified treasury code of taxation, the budget processes in Georgia, results-oriented program-based budgeting, budget transparency and accountability, electronic public financial management systems, and the functionality of electronic systems.
"We came to Georgia to get acquainted with its experience in program-based budgeting, oriented on results. The aim of the visit has been realized, as we have obtained the required information, and are going to apply it to our own work. Our counterparts from the Ministry of Finance of Georgia (MoF) have offered us a plethora of information about their budget practices. We have never observed or dealt with such approaches in our practices before and we will be sure to use this information in our work. I convey my huge thanks to the staff of the MoF Georgia for the detailed information and discussion regarding budget matters, forecasting approaches for mid-term budgeting purposes, and many other topics,"

said Talantbek Astamaliev, Head of the Public Sector Expenditure Planning Department, MoF KR.
PMCG organized the four-day study tour in partnership with the MoF KR to strengthen cooperation between parties, as well as to maintain and provide sustainability of results achieved through the recently-completed joint initiative entitled "Improving Program-based Budgeting and Budget Investment Planning Including Improvements in Sectoral Expenditures Planning."