Which Main Directions Should Regions Pursue for Effective Economic Development?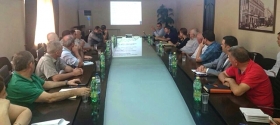 5.11.2015
What is the key to successful regional development? Furthermore, what are the main areas regions need to address to develop social and economic welfare? These are the major questions that PMCG, together with 22 municipalities from 6 regions of Georgia (Qvemo Kartli, Mtskheta-Mtianeti, Guria, Imereti, Racha-Lechkhumi and Samegrelo-Zemo Svaneti) are cooperating to answer.
The project is entitled "Develop Municipal Priority Document Methodology, Support to Design Municipal Priority Document for 22 Municipalities and Update Comprehensive Action Plans for 6 Regions of Georgia. First, PMCG will develop a methodology – general instrument for creating a municipal mid-term vision. Considering the differences between regions, each requires its own unique approach.
The methodology will support municipalities to analyze their current situation and outline the real opportunities available to them in different fields. PMCG will coach municipalities to develop skills in designing a priority document, which will be of great help when putting plans into practice.
"Nobody else understands the needs and opportunities, better than the municipalities themselves. They just need to enhance skills of understanding these opportunities and on the other hand, tools for effective strategy development", explains Vano Tavadze, Team Leader of the project.
The priority documents are a pilot initiative that will cover the period 2016-2019. Furthermore, PMCG will facilitate the update of Regional Action Plans for the involved regions, through a participatory approach incorporating objectively justified and prioritized projects, monitoring and evaluation indicators, responsible agencies and timeframes.