Welcoming Our New Junior Researcher at PMC Research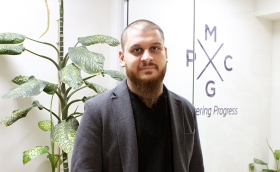 8.06.2017
We are pleased to welcome Andro Tvaliashvili to our team as our new Junior Researcher, replacing Irakli Barbakadze who has moved on to the National Bank of Georgia.
Andro will be involved in putting together the periodic newsletter "Economic Outlook and Indicators" which analyzes various economic issues in Georgia and the projects implemented by PMC Research.
Prior to joining our team, he worked as an Officer at the Revenue Service, Ministry of Finance of Georgia, processing and analyzing data. Andro has also accumulated valuable experience while working at the Office of International Education at Bucknell University (Lewisburg, Pennsylvania), where he managed special projects and worked on the development of an electronic database for educational programs.
His predecessor, Irakli, leaves us after five years of excellent service. He contributed significantly to the organization in the field of research and was a highly popular team member. We would like to thank Irakli for all of his hard work and we wish him every success in his new position.