Trainings Conducted as part of the "Civil Society Organizations Supporting Free Trade with Europe" Project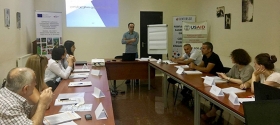 14.11.2017
In September and October 2017, PMC Research Center conducted trainings and stakeholder meetings about value chain analysis methods in seven regions of Georgia. More specifically, the trainings were carried out for civil society organizations (CSOs) in Kakheti, Kvemo Kartli, Mtskheta-Mtianeti, Samtskhe-Javakheti, Imereti, Samegrelo, and Adjara regions.
In total, representatives of 31 CSOs attended the trainings across the seven selected regions.
Importantly, after each of the trainings, stakeholder meetings were held in each region with attendees from Municipality Information-Consultation Centers of the Ministry of Agriculture, private sector and other stakeholders in order for the target CSOs to select an agricultural product. Value chain analysis will be conducted by the CSOs, together with PMC Research Center's researcher, on the selected products. CSOs chose blackberries for Kakheti, broccoli for Kvemo Kartli, raspberries for Mtskheta-Mtianeti, carrots for Samtskhe-Javakheti, tomatoes for Imereti, bay leaves for Samegrelo, and tangerines for Adjara. The specific context of each region and each product's potential for export to the EU market was taken into consideration in the selection process.
The main purpose of the trainings was to strengthen the role of regional organizations in the process of the realization of the Deep and Comprehensive Dree Trade Agreement (DCFTA). Furthermore, they were also designed to increasing the capacity of such organizations in value chain analysis so they can offer this service to local farmers in the future.
The DCFTA represents both an opportunity and a challenge for local small and medium enterprises. Most local entrepreneurs lack the necessary knowledge and finances to export to the EU and therefore face barriers in terms of entering new markets. As a result of this project, CSOs, as well as local action groups (LAGs), have the capacity to analyze local agricultural products and their potential for export to the EU.