"The Georgian Example" – USAID Video about how Membership of Open Government Partnership Facilitated Significant Development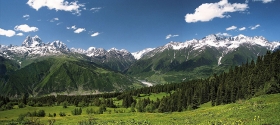 21.08.2018
On July 17-19, as a lead co-chair of the Open Government Partnership (OGP), Georgia hosted the 5th OGP Global Summit in Tbilisi.
The event gathered high-level representatives of the public sector, civil society, private sector, parliament, academia, researchers, and journalists from OGP countries to discuss their achievements and current challenges hindering their countries' further development.
Aiming to inspire OGP reformers to raise the level of ambition and to facilitate an open government agenda to address new challenges and improve the lives of citizens around the world, the focus of the Summit was placed on civic engagement, ways of fighting corruption, and ways to improve service delivery.
Georgia's successful reforms and the ways in which it significantly improved its good governance and transparency practices were under the spotlight in the various panel discussions and the Summit as a whole.
The story of the country and the recent challenges Georgia has been facing was told in a recently published video prepared by US-based international development company Democracy International, courtesy of USAID funding. The video aimed to emphasize how Georgia's membership in the OGP has helped to foster transparency and accountability in the country since joining in 2012.
Contributors to the reforms, such as former representatives of the Government of Georgia, civil society organizations, and other parties recalled the situation before Georgia decided to make these significant steps.
"2004 was the first entry point in these reforms. After the reforms it was not just fighting against corruption, but mainly the approach of the government was to simplify processes, to get rid of this so-called Soviet legacy that we had in the economy, that we had in everyday life", recalled Aleksi Aleksishvili, Chairman and CEO at PMCG and former Minister of Finance and Minister of Economy of Georgia.
"The Government of Georgia (GoG) has already improved its budget transparency, however this has not been matched with an increase in meaningful citizen participation in the budget process. We are confident that we, non-state actors, should work together with the GoG to open participation mechanisms that involve the public in the formulation of the executive budget," explained Mikheil Kukava, Senior Consultant at PMCG.