Supporting the Government and the Verkhovna Rada of Ukraine under the USAID HOVERLA Project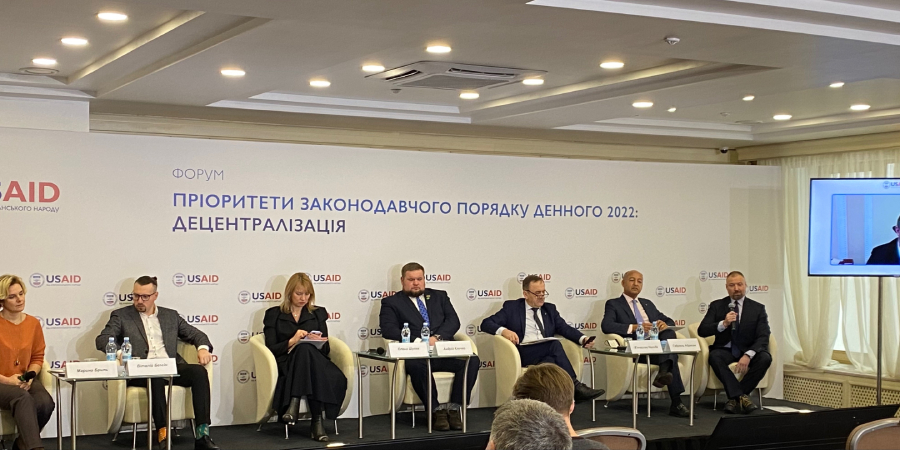 17.02.2022
On January 31, the USAID Governance and Local Accountability (HOVERLA) Activity held a forum to discuss and define the priorities of the legislative agenda of the Verkhovna Rada of Ukraine with respect to decentralization and local government development for 2022.
Marc Ellingstad, Director of the Office of Democracy and Governance at the United States Agency for International Development (USAID) Regional Mission in Ukraine and Belarus, opened the event.
"Today's event is aimed at facilitating the discussion of needs and challenges, faced by municipalities, as well as the possibilities for the Government and the Verkhovna Rada of Ukraine to consider those needs and challenges while drafting the 2022 legislative agenda. USAID in partnership with Ukraine and its citizens has been investing in Ukrainian democracy for almost thirty years. We believe that spreading decentralization has been one of the most significant and successful reforms in Ukraine" emphasized Mr. Ellingstad in his welcome address.
The forum gathered over 300 participants, including people's deputies, local self-government bodies' heads, representatives of local self-government, and the Government of Ukraine, and entailed discussions on the priorities of the legislative agenda regarding the decentralization reform from the perspective of the Ukrainian government, the Verkhovna Rada, local governments, and their associations. The results of a survey on the legislative agenda and priorities submitted to over 150 local government representatives were also presented at the event.
Most participants of the event stressed the need to make amendments to the Constitution of Ukraine in the fields of distribution of powers, budget, and tax legislation. Moving forward, the forum results will be systematized and forwarded to relevant stakeholders working on the decentralization of legislation.
The HOVERLA Activity is a five-year program funded by USAID and implemented by DAI Global LLC (DAI) in cooperation with implementing partners.