Supporting Kosovo to Boost its Tourism Sector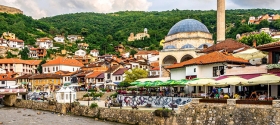 5.04.2016
USAID's Partnership for Development (PFD) program contracted PMCG to support the Government of Kosovo to facilitate development of its tourism sector.
The Government of Kosovo, in its 2015-2018 program, identified tourism as one of the most important areas for society and economic development. The country has the capacity for developing various types of tourism including winter and mountain, recreational-sports, and cultural.
PMCG has studied the existing situation covering public and private sector approaches to tourism in Kosovo, linkages with international tourism organizations, and reviewed the Government policy, legal, and operational framework governing the tourism sector in Kosovo in relation to EU requirements and international best practices on regulation of private economic activity in the area of tourism.
After the first evaluation stage, PMCG conducted consultations with all stakeholders, including officials from the Ministry of Trade and Industry (MTI), the Government of Kosovo, municipalities, tourism operators, associations and other actors in the field.
As a result of this in-depth review of the existing situation, PMCG developed recommendations to improve Kosovo's private sector practices, as well as policy, legal, and operational framework in the tourism industry.