Raising Environmental Awareness of Tbilisi Transport Company (TTC)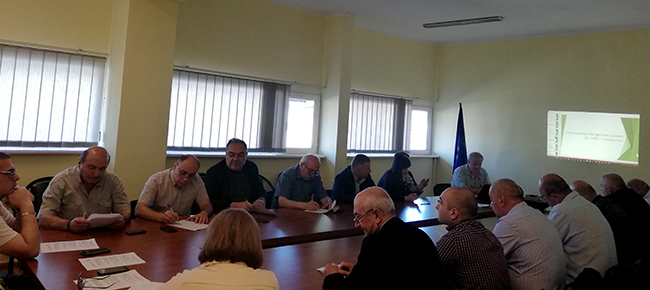 10.06.2019
On May 20-27, PMCG conducted a 6-day training course regarding environmental management systems for the representatives of Tbilisi Transport Company (TTC).
As TTC employees' work deals with many waste and hazardous materials, it is vital that they have sound environmental practices in place.
Therefore, ISO standards and national legislation about environmental issues were discussed during the workshop, while trainings were focused on understanding practical and effective means of waste management, pollution prevention, risk assessment, emergency response plans, how to conduct internal environmental audits, as well as the roles and responsibilities of TTC's health and safety (HSE) team.
"The training session was very important for the company as it aimed to provide TTC employees with the knowledge of a framework to protect the environment and respond to changing environmental conditions, at the same time balancing socio-economic needs," said Revaz Enukidze, Consultant at PMCG.
The trainings were conducted as part of the EBRD's "Tbilisi Bus Project – Corporate Development and Stakeholder Participation Programmes," which is being implemented by PMCG, as part of a consortium led by Mott MacDonald CZ.
Please kindly follow the link below for detailed information about the project:
Tbilisi Bus Project – Corporate Development and Stakeholder Participation Programmes