Promoting Tourist Destinations in the Regions of Georgia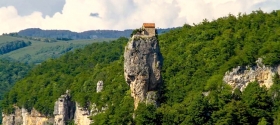 18.08.2017
PMCG, together with Ecorys Poland and Best Place – European Place Marketing Institute, has started working with the Georgian National Tourism Administration (GNTA) as part of a World Bank project, aiming to support the promotion of tourist destinations in Georgia, specifically in the regions of Kakheti and Imereti.
At the first stage, the project team will study and analyze the marketing needs of Georgia and especially these selected regions. Based on the results of this analysis, the team will develop a branding, marketing and promotion strategy.
To support the strategy's effective implementation, the team will conduct an online marketing campaign in targeted markets, such as Poland, Germany and Israel. Moreover, the team will develop and upgrade tourist websites, transforming them into world-class interactive portals.
To facilitate more effective visual communication with potential tourists, PMCG will also oversee the recording of VR 3D videos, featuring the major tourist destinations within the regions of Kakheti and Imereti.
Please kindly follow the link below for detailed information about the project:
Tourism Marketing, Promotion, Online Coverage and Destination Management for Kakheti and Imereti Regions in Georgia