PMCG's CEO at the Sri Lanka Economic Summit 2022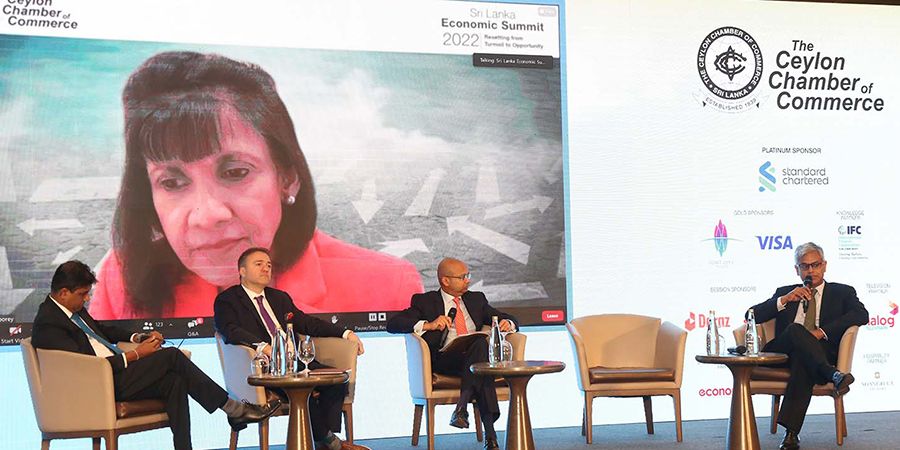 28.12.2022
On December 6, PMCG's CEO and Chairman Aleksi Aleksishvili participated in the Sri Lanka Economic Summit 2022 (SLES 2022), an annual event organized by the Ceylon Chamber of Commerce. This year, the SLES carried the theme "Resetting from Turmoil to Opportunity," according to which a course toward the sustainable revival and economic recovery of the country was discussed and mapped.
The summit gathered over 30 local and international speakers to cover areas of monetary and fiscal policy, economic reforms, technology, investment, and private-sector-led growth, with a clear focus on crucial reform priorities.
Mr. Aleksishvili participated in the SLES's fireside chat titled "Economic Reforms and Implications," which allowed him and others to share and explore their experiences of necessary reforms, their implications, and how these might be replicated or learned from to enable Sri Lanka's economic recovery.
As a former Finance Minister of Georgia, Aleksishvili is widely credited with having successfully implemented reforms in the areas of public finance, tax and customs policy and administration, deregulation, and liberalization. During the fireside chat, he presented Georgia's economic reform story and explained how Georgia's economy was propelled to normalcy following an extensive reform process involving various government organizations.
"There is opportunity in every crisis, and to recover fast from any crisis it is necessary to turn a crisis into an opportunity, which often requires new ways of responding and reforming processes relating to tax and customs administration, the judiciary process, law enforcement, and many other sectors,"

said Aleksishvili.
The Sri Lankan economy is going through a sovereign debt crisis and a balance of payment crisis, making it difficult to import essential items such as medicines, fuel, and food. In particular, the sovereign debt crisis is driven by persistent fiscal and current account deficits.
Presently, Sri Lanka is pursuing an IMF program to stabilize the macro economy while at the same time seeking to restructure its external debt. Against this backdrop, Sri Lanka needs to put an economic recovery plan in place to ensure a swift revival through the growth and implementation of reforms in the short-to-medium term.
The summit also focused on the critical levers that Sri Lanka will need to apply to macroeconomic stability and ensure private-sector-led growth.
To read more about the summit and Aleksishvili's involvement therein, please follow the links below:
'Consider ongoing crisis as an opportunity for a faster reform process' – Aleksi Aleksishvili
Georgian model and its adaptability to SL
Economic reformist from Georgia among headliners at Sri Lanka Economic Summit 2022
The Ceylon Chamber of Commerce
The Ceylon Chamber of Commerce wishes to place on record its sincere appreciation and gratitude for PMCG's contribution towards the successful organization of the Sri Lanka Economic Summit 2022.