PMCG's Aleksi Aleksishvili Participates in IMF Caucasus and Central Asia Advisory Group Meeting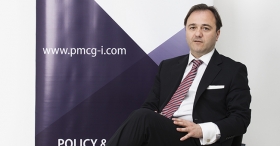 1.07.2015
On July 1, Aleksi Aleksishvili, Chairman and CEO at Policy and Management Consulting Group (PMCG) participated in the Summer 2015 IMF Caucasus and Central Asia Advisory Group (CCA Advisory Group) meeting in Dilijan, Armenia.
As a member of the CCA Advisory Group of the IMF's Middle East and Central Asia Department (MCD), Aleksishvili took part in the session which was dedicated to recent developments, the outlook and key economic risks, economic stability, geopolitical risks, international sustainability and economic growth rate in the CCA region.
Aleksishvili was elected as an advisory group member in April 2015 being a professional of sound experience working on public finance issues and economic development policy as a high-level government official and government adviser in transitional countries.
The advisory board is focused on economic, political-economy, geopolitical and political issues, and carries significant importance for CCA countries. In addition, the board works to increase the Fund's effectiveness and impact on the regions it serves, by raising awareness about challenges and trends, and influencing macroeconomic and financial sector development in the region.