PMCG Sponsors 2nd Annual South Caucasus Infrastructure & New Energy Investment Summit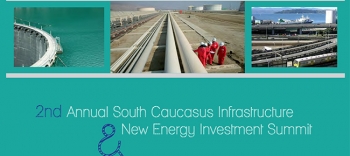 5.02.2015
Policy and Management Consulting Group (PMCG) continues to support and facilitate economic development in countries in transition and, as part of this policy, is sponsoring the 2nd Annual South Caucasus Infrastructure & New Energy Investment Summit.
The event is being held on February 5-6 in Tbilisi and brings together up to 250 international delegates including investors, government officials, project owners, large industry operators and representatives of SMEs and International Financial Institutions (IFIs).
Participants of the Summit are given a unique opportunity to share ideas, approaches and learn from the real examples experienced by their colleagues and counterparts.
Speakers at the Summit include senior governmental officials and representatives of legal and consulting firms, private sector firms from the energy and infrastructure industry, IFIs, banks and PPP advisors all of whom will highlight progress being made in the South Caucasus and present new opportunities offered by the region.
Major topics to be discussed at the Summit include urban environmental and key regional infrastructure developments, revitalizing and modernizing transport infrastructure, expanding renewable markets and cross-border energy infrastructure, renovating water resource, waste management, recycling, cleaning technologies and investment opportunities in new energy power generation.
"Hosting such a large scale summit has great importance for Georgia, as it once again highlights the country's role in energy security, and such events create a favorable platform for financial institutions and foreign and local investors to meet and lay the foundations for joint project implementation," explained Dr. Zviad Kharebava, Business Sector Consulting Director at PMCG.