PMCG Gathers EU Project Teams for Networking Event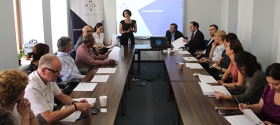 27.09.2017
On September 22, PMCG staged a networking event, hosting Team Leaders and Deputy Team Leaders from all EU-funded projects in Georgia in which PMCG is a partner. In addition, representatives of the State Minister's Office on European and Euro-Atlantic Integration (OSMEEAI), the Information Center on NATO and EU, the Ministry of Foreign Affairs (MFA), the EU Delegation in Georgia and other projects funded by different donor organizations attended the meeting.
The purpose of the event was to enable Team Leaders to share information between themselves about their respective projects and discuss the points of convergence and possible cooperation. It was also designed to provide detailed information about various EU projects implemented in Georgia to the Information Center on NATO and EU, the MFA and the OSMEEAI.
PMCG is currently co-implementing six different EU-funded projects in Georgia in various sectors, all of which directly or indirectly contribute to the effective implementation of the EU-Georgia Association Agreement (AA).
"We are pleased that participants found the meeting very fruitful, and that the meeting served as a platform for effective communication and emphasized collaboration opportunities", said Tamar Medulashvili, Project Manager at PMCG, adding that the company plans to organize similar meetings again in the near future.