PMCG Contributes to Enhancing Parliamentary Oversight in Security Sector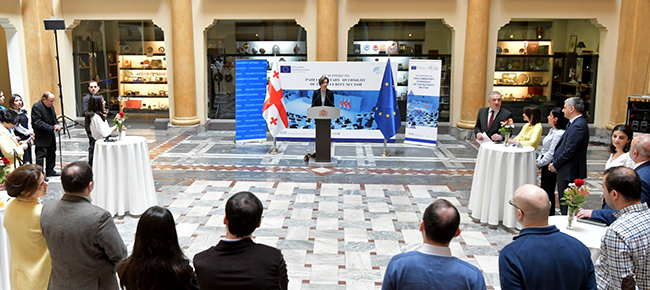 6.05.2019
We recently completed a European Union project designed to enhance parliamentary oversight in the security sector and to increase transparency by ensuring effective parliamentary oversight of defense and security agencies and improving relevant legislation of Georgia.
The project's closing ceremony was held on April 24 at the Parliament of Georgia where representatives of the Parliament, the EU Delegation in Georgia and non-governmental organizations gathered. All of the interested parties and project beneficiaries emphasized the importance of the project's assistance and the results this had helped to achieve.
"We accomplished a very interesting project, supported by the EU for 18 months, aimed at the enhancement of the parliamentary oversight of the security sector. Since the constitutional changes were made to the administrative system in the country, the enhancement of the accountability of state structures of the Parliament is paramount. Naturally, the security sector is one such key field for the Parliament to ensure appropriate oversight and to make our country more reliable, first of all for its citizens and businesses, and also for our partners who can consider us a reliable ally at international and regional level. The Parliament has acquired good experience in this process from European and other leading countries.," said Giorgi Volski, Deputy Chairman of the Parliament of Georgia.
The project team intensively cooperated with members of three parliamentary committees: the Defense and Security Committee; the Legal Issues Committee; and the Human Rights and Civil Integration Committee. The assistance was focused on the following main areas: analysis of gaps in military legislation; enhancing the capacity of the respective parliamentary committees, staff and the Group of Trust for efficient oversight of the defense and security sector; enhancing financial-budgetary parliamentary oversight and monitoring of the defense and security budgets as well as procurement monitoring tools; strengthening analytical capacities of the parliamentary committees and staff; improving monitoring capacities for cases of human rights violations, with specific attention paid to gender sensitiveness; and improved communication.
The project – Support to Parliamentary Oversight of the Security Sector in Georgia – is funded by the European Union and was implemented by a consortium led by B&S Europe.
Please kindly follow the link below for detailed information about the project:
Improving Legislative Framework for Effective Civilian Oversight over Security Sector in Georgia