Parliamentary Oversight in Georgia: Plans and Prospects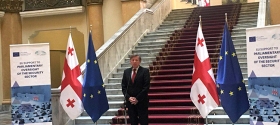 16.04.2018
On April 13, a presentation of the project "EU Support to Parliamentary Oversight of the Security Sector" was held at the Parliament of Georgia.
The Ambassador of the European Union to Georgia, H.E. Janos Herman, Chairman of the Parliament of Georgia, Mr. Irakli Kobakhidze, and Chairperson of the Defence and Security Committee, Mr. Irakli Sesiashvili, welcomed the guests.
Participants received information about the implemented actions, outcomes and future steps in the framework of the EU-funded project.
The project was launched in October 2017 and PMCG, as part of a consortium led by B&S Europe, is working to improve parliamentary oversight of the security sector and to increase transparency, by ensuring proper monitoring of defence and security agencies, and improving relevant legislation.
In order to ensure that the project achieves its goals, in cooperation with its consortium partners, PMCG will be working in the following directions:
Analysis of existing legislation and practices in the field, to recommend specific measures for improvement, taking into account gender perspectives and sensitivities, and to create codified military legislation;

Delivering trainings and arranging study visits to EU Member States for Members of Parliament and staff members of the relevant committees, to increase capabilities and to ensure the long-term stability and effectiveness of the committees' activities in conducting legislative, oversight and policy work;

Assisting the Committee and Group of Trust to monitor and control spending of relevant governmental agencies, by developing a program budget with relevant, well-defined indicators, objectives, timeframes and mid-term assessments;

Delivering trainings to Members of Parliament and staff members of the relevant committees to upgrade their skills in relation to modern analytical methodologies, necessary to better scrutinize bills submitted by the Government of Georgia and to improve the efficiency of elaborating strategic documents and preparing appropriate recommendations and advice;

Improving monitoring capacities in cases of human rights violations, with specific attention paid to gender sensitivities, by training staff of the relevant committees in this direction.
Please kindly follow the link below for detailed information about the project:
Improving Legislative Framework for Effective Civilian Oversight over Security Sector in Georgia