Meet Our New Executive Director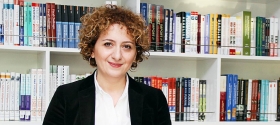 17.01.2018
We are delighted to welcome Tamar Japaridze to our team as our new Executive Director after the position was vacated by Olia Watt who moves on with our best wishes to the Georgian National Communications Commission (GNCC).
Tamar brings with her an impressive 17 years of sound experience in management of public and private institutions, organizational development, fundraising, quality assurance and coordination with international development institutions.
In her new role as Executive Director, Tamar will be responsible for strategic management, managing daily operations, financial management, and project implementation within PMCG.
Her predecessor, Olia, leaves us after devoting 8 years of excellent service to PMCG, contributing significantly to the company's development. We continue to cooperate with her on a number of opportunities and wish her every success in the next exciting challenge of her career. It's beyond doubt that her talent and diligence helps us to secure impressive achievements together.