Kabul Municipality Successfully Launches Improved Construction Permits System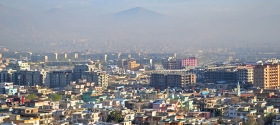 26.07.2016
Kabul, Afghanistan has successfully introduced a simpler and more efficient construction permits system, under a business process re-reengineering project by The World Bank/International Finance Corporation.
In 2014, PMCG was contracted by IFC to assist Kabul in improving its construction permit processes. Substantial delays in issuing construction permits, an ineffective legal and institutional framework, inconsistent classification of construction permits and buildings, and a lack of transparency and public engagement were among the key problems observed by PMCG's consultants initially.
PMCG contributed the project by developing recommendations on the following issues: reduction of the timeframes and costs for each procedure, reduction of excessive interaction between government and private sector representatives by introducing the one-stop shop (OSS) principle in the process of issuing construction permits; introduction of an individual approach for each type of building/structure known as risk-based construction permitting; and ensuring compatibility between public, private and third party interests.
Information regarding the progress of the project was taken from a press release of the IFC, dated July 20