HRM Tools for Officials of Newly-Created Municipalities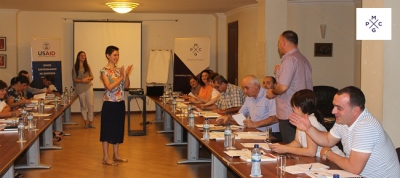 5.09.2014
On 4-5 September, Policy and Management Consulting Group (PMCG) is conducting training courses about Human Resource Management (HRM) for senior officials from 14 newly-created local municipalities. The project "Training courses for senior civil servants in 14 newly-created municipalities" is being carried out under the USAID Georgia, Good Governance in Georgia (G3) Program.
The training program aims to assist newly-created local municipalities to meet challenges by enhancing the skills and capacities of their officials. PMCG has already developed a training manual and issued relevant guidelines to introduce effective tools of HRM to representatives of municipalities.
About 30 attendees will receive information about the Georgian law on public service and the modern trends in the field of recruiting, including:
Guidelines and recommendations of how to build up relevant job description and vacancy announcement;

How to conduct the process of applicants' selection effectively;

How to search for recommendations and;

How to create an effective adaptation program.
In addition to the theoretical sessions, PMCG trainers will introduce special practical exercises. In order to ensure the completeness of the achieved results, under the framework of this project a similar course about the State Procurement and Budgeting systems will be delivered to the representatives of 14 newly-created municipalities.