Georgia as a Transit Hub and its Increasing Potential in the Implementation of the Belt and Road Initiative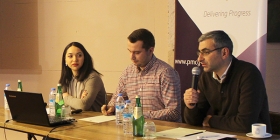 25.01.2018
On January 25, at 10:30 am, PMC Research hosted a presentation and public discussion of the research findings "Georgia as a Transit Hub and its Increasing Potential in the Implementation of the Belt and Road Initiative".
The research aimed to highlight Georgia's potential in the implementation of the Belt and Road Initiative (BRI) and to identify necessary steps that Georgia should take to strengthen its involvement in this regard.
The BRI represents an important opportunity for Georgia to become a transit hub, benefitting from the deepening of trade relations between China and Europe.
"Georgia has the potential to offer China an efficient trading platform with Europe and the study emphasized the areas that Georgia must develop to increase its attractiveness as a partner within the BRI" declared Mariam Zabakhidze, researcher at PMC Research.
According to the research, there are key issues that Georgia must develop to increase country's engagement in the initiative:
Creation of a soft infrastructure tool at the regional level, such as unified tracking and tracing system to simplify border-crossing procedures;

Development of a national transportation strategy document that will coordinate different transport systems (ports, railways, etc.);

Establishment of an action plan to identify synergies between DCFTA and FTA with China;

Creation of a BRI harmonization unit that will ensure effective use of Georgia's potential within the BRI.
Mariam Zabakhidze and Rezo Beradze, researchers at PMC Research presented the study's findings. Giorgi Papava, associate professor at Ilia State University, moderated the discussion.
Representatives of the Government of Georgia, various embassies, non-governmental organizations, international development institutions and private companies attended the event.
The study was conducted by PMC Research, as part of the project "Public Policy Discourse and Dialogue Platform", with the support of Policy and Management Consulting Group (PMCG).
Follow the link for the full research:
Georgia as a Transit Hub and its Increasing Potential in the Implementation of the Belt and Road Initiative