Evaluating USAID Iraq's Administrative Reform Project – TARABOT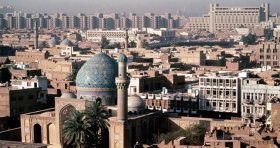 6.12.2016
PMCG has been subcontracted by QED Group to evaluate the performance of USAID Iraq's Administrative Reform Project TARABOT, one of the largest projects of its kind aiming to increase the effectiveness of the Government of Iraq (GoI) by improving public institutions, quality of service delivery, and human and fiscal resource management.
The project team is closely collaborating with the GoI to evaluate the impact of Tarabot, covering activities which pursued and achieved project goals. Moreover, the extent to which the project has strengthened the capacity of the Ministry of Planning and the Ministry of Oil to implement supported systems and reforms is also being evaluated.
The team will assess the level of progress achieved in the pursuit of Tarabot's key objectives, and will identify key areas in which success has been achieved and where some challenges remain.
Based on the evaluation results, the project team will issue recommendations as to how USAID can continue its efforts to build upon the results achieved by Tarabot, to improve its sustainability and long-term impact.