Enhancing Tourism Marketing in Adjara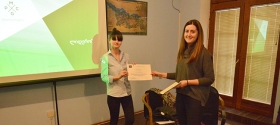 11.02.2016
During January 11-28, PMCG trained top-level management and staff of the Tourism and Resorts Department of the Government of the Autonomous Republic of Adjara Autonomous Republic (GoARA) to enhance their skills in tourism marketing.
In order to achieve tangible results, several courses were provided such as marketing, management, fundraising and donor coordination mechanisms, methods of modern research, statistical analysis, and time management.
The courses combined theoretical and practical components that helped trainees to better understand tourism marketing as a whole, starting from identifying key selling points, to effective and efficient planning and implementation systems.
Tourism remains one of the most important fields for the economy of Adjara. Therefore, enhancing the capacity of Adjara's Tourism and Resorts Department is crucial for the region's economic development.
As PMCG has sound experience in capacity building and has implemented several successful projects, GoARA contracted PMCG to carry out the training courses.
As a result of the trainings, the Department's staff are now equipped with all of the necessary tools to conduct market research and statistical analysis, to better communicate their messages to target audiences, and to efficiently manage local tourist facilities that in medium and long-term should improve the tourism sector, the regional economy and, ultimately, the lives of local citizens.
"I'd like to highlight that trainings were designed and conducted in a very effective way, so that our staff got information and practical knowledge about the modern trends. Almost all employees of the departments attended the trainings that once again proves how interesting they were. Notably, new ideas were raised in the process that will facilitate development of the department. We are going to take some of them into account and even reflect them in the upcoming budget", emphasized Mamuka Berdzenishvili, Head of Adjara Tourism and Resorts Department.