Driving the Transport Sector Forward in Georgia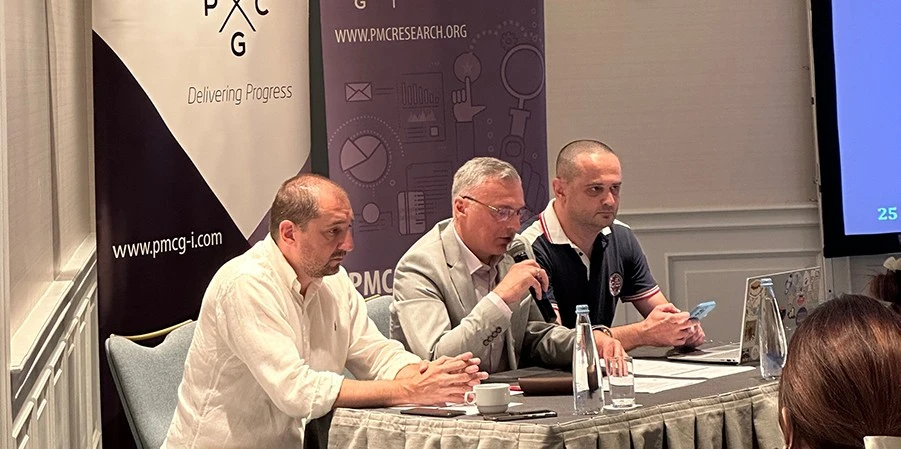 31.07.2023
Transportation plays a pivotal role in the economic growth and development of any nation. Accordingly, PMCG recognizes the importance to Georgia of advancing its transport sector. With that in mind, on July 25 the company introduced fresh and informed insights on Georgian railway shipment. In particular, a public discussion brought together transportation policymakers and industry experts. Crucially, they deliberated over the preferred systematic process for estimating the prime costs of railway transportation. Ultimately, the prime objective was to foster educated analysis and effective decision-making within the railway industry.
The presented research was authored by Dr. Davit Gondauri, Associate Researcher at PMCG. Of note, he carries a wealth of expertise in the field of railway transportation. Meanwhile, the research was peer-reviewed by Dr. Zviad Chkhartishvili, Commercial Relations Officer at APM Terminals Poti, adding a further layer of credibility to its findings. The event was moderated by Dr. Zviad Kharebava, Environment and Infrastructure Development Director at PMCG.
The Impending Railway Transport Reform
As Georgia brings its legislation in line with that of the EU under the Association Agreement, significant railway transport reform is earmarked for 2023. Pertinently, this reform aims to establish a European model for the Georgian railway network, reflecting EU Directives.
"I would like to emphasize that both theoretical and practical implications of research performed by PMCG will encourage further discussions to be held with GR and even stakeholders on Middle Corridor in order to form optimal tariffs and improve competitiveness of our corridor,"

said Dr. Chkhartishvili.
To streamline operations and enhance efficiency, Georgian Railway (GR) is now divided into the following three strategic business units (SBUs):
1. Infrastructure SBU
2. Passenger SBU
3. Freight SBU
Crucially, opting for the European rather than US model allows Georgia to maintain state ownership of railway infrastructure. At the same time, private companies can engage in freight shipment and passenger carriage. This approach is deemed suitable for Georgia for two main reasons:
1. Mitigation of Geopolitical Risks: Maintaining state ownership of railway assets reduces potential geopolitical risks associated with selling infrastructure to private actors.
2. Attracting Investments: Drawing in new market players, including cargo forwarders, stimulates growth in the Middle Corridor without compromising ownership of vital assets.
The railway reform is being implemented in several phases. Eventually, the railway infrastructure component covered under EU Directive 2012/34 will be satisfied. Essentially, this directive calls for the introduction of new companies to the market. Moreover, it calls for the introduction of a new rolling stock of electric locomotives. Reflecting Georgia's broader aim to achieve EU membership, embracing the European model will allow it to renew and upgrade its railway infrastructure and services.
Relevant EU Directives also mandate the licensing and certification of introduced operators. This is designed to ensure a higher quality of services on GR's network. As some of the electric locomotives in Georgia's present rolling stock as old as 60 years, the need for such reforms is urgent.
Determining Prime Cost of Railway Transportation and Identifying Variable Components
To optimize Georgia's railway system and make it more economically viable, determining accurate shipment costs is crucial. Relatedly, the following two prominent pricing methodologies are used worldwide:
1. Market Demand-Based Pricing: The railway sets the price based on existing market demand.
2. Average Prime Cost Approach: The railway calculates costs based on the average prime cost, adding a certain profit margin for development.
Developing a Suitable Model for Georgia
Initially, when designing a suitable model for the Georgian network, our research identified variable and fixed costs by interviewing representatives of the SBUs. This comprehensive approach ensures that the model will cater to Georgia's unique system needs.
Summary
The public discussion on July 25 marked a significant landmark in PMCG's support for the transport sector in Georgia. Crucially, with the imminent railway transport reform, the company's research and insights aim to equip transportation policymakers with a systematic process for estimating prime costs of railway transportation. Pursuing its EU aspirations, by embracing the European model, Georgia is poised to create a robust and efficient railway network. Importantly, this will drive economic growth for years to come. Focusing on informed analysis and effective decision-making, PMCG continues to demonstrate its commitment to shaping a brighter future for Georgia, in transport and various other sectors.
---
Please note that the recommendations from the presentation are being reflected on the final publication and the paper will be available for public shortly.