Discussions with the Local Community Prior to Construction of a New Waste Disposal Facility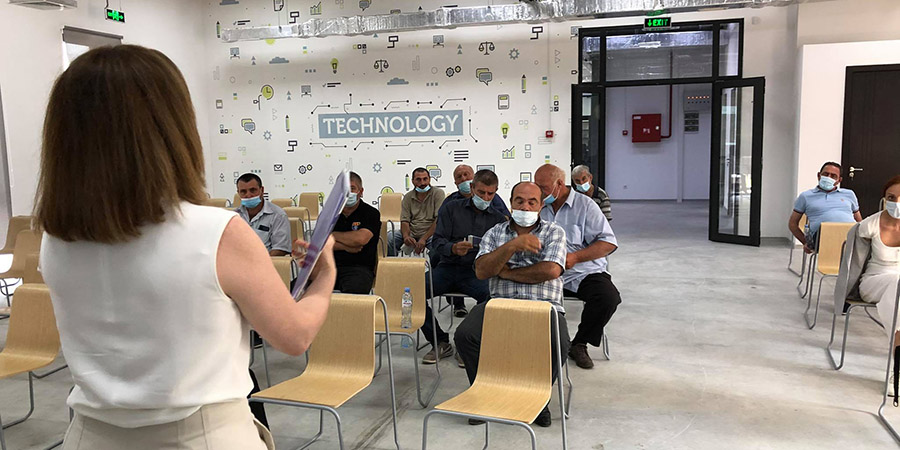 4.08.2021
On July 27-28, we conducted focus group discussions with the local residents of Gurjaani municipality about the introduction of a new landfill site selection approach, and to present to them the importance and role of the new waste disposal facility.
Each focus group, constituting 6-10 representatives of the respective local community, including youth and women as well as representatives of NGOs, participated in mapping and discussion of the following: physical infrastructure; sites/sources of water, sanitation, electricity, fuel, and communication; community infrastructure, health and education facilities and services; markets, and business and commercial sites; land uses (crops, pasture, forest, special areas, cultural sites); natural resources (noting seasonal uses); and locally significant sites including environmentally-sensitive sites, historical sites, sites of celebration, burial sites, religious sites / places of worship, and specific meeting places.
These focus group discussions were held in the course of the Integrated Solid Waste Management (ISWM) Programme II, which is funded by KfW, and is being implemented by PMCG, as part of a consortium led by Fichtner.
Please kindly follow the link below for detailed information about the project: Integrated Solid Waste Management Programme II, Kakheti and Samegrelo-Zemo Svaneti Regions, Georgia: "An Accompanying Measures Consultancy Service"