Discussing the Southeast European Network's Development and Good Municipal Practices in Digitalization and Crisis Management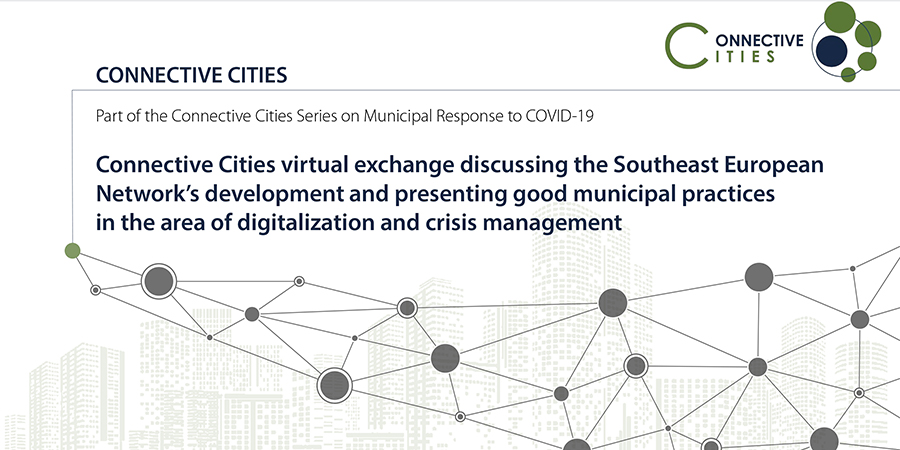 26.11.2021
On November 12, we conducted a Connective Cities Series virtual exchange on Municipal Response to COVID-19, devoted to exploring municipal measures and initiatives taken to address the COVID-19 crisis, as part of the German Agency for International Cooperation (GIZ) project "The Development of COVID-19 Recovery Solutions at Municipal Level in the Areas of Digitalization and Crisis Management in the Southeast European Region."
The online exchange was part of a series of Connective Cities virtual events promoting knowledge exchange in the fields of municipal response in crisis management and digitalization globally. These virtual exchanges bring together city leaders and field experts in crisis management, digitalization, and governance to discuss prevalent trends, opportunities, and challenges emerging, along with the development and reinvention of municipal responses amid the COVID-19 pandemic.
In the first part of the virtual event, Professor Ms. Neli Georgieva, Research Associate at the European Policies Research Centre, delivered a keynote speech about COVID-19 and territorial policy, which was followed by an overview of municipal responses to COVID-19 in terms of digitalization and crisis management from Melitopol (Ukraine), Tbilisi (Georgia) and Mostar (Bosnia and Herzegovina). Finally, a panel discussion focused on the importance of digitalization for efficient crisis management at the local governance level during the COVID-19 pandemic.
The event gathered representatives of Melitopol (Ukraine), Tbilisi (Georgia) and Mostar (Bosnia and Herzegovina) municipalities, representatives of GIZ, cooperating experts on crisis management digitalization and local development, as well as people from all over the world with a particular interest in Southeast Europe.
"Economic and social implications emerging from COVID-19 will vary across territories and will therefore require diverse place-based instruments. Given the uncertainty of what the 'new normal' will be, governments at all levels will need to have flexibility and adaptability in mind when determining policy priorities and instruments, while also managing long-term challenges. In this situation, policy coordination and institutional capacities will become even more crucial than today," said Professor Ms. Neli Georgieva.
The Connective Cities international exchange platform is a multi-stakeholder project run by the German Association of Cities, Deutsche Gesellschaft für Internationale Zusammenarbeit (GIZ), and Engagement Global with its Service Agency Communities in One World (SKEW). The project has been commissioned by the German Federal Ministry for Economic Cooperation and Development (BMZ).
Follow this link for more detailed information about the project :The Development of COVID-19 Recovery Solutions at Municipal Level in the Areas of Digitalization and Crisis Management in the SEE Region