Discussing Opportunities and Challenges of the EU-Georgia DCFTA at Georgian Farmers Congress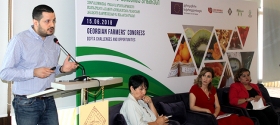 21.06.2018
On June 15, PMC Research participated in the Georgian Farmers Congress, an event designed to support dialogue between farmers and state bodies, a crucial aspect in the development of Georgia's agricultural sector.
Giorgi Khishtovani, Director at PMC Research, presented the main findings and recommendations regarding value chain analyses (VCAs) in the agricultural sector with respect to the DCFTA between Georgia and the European Union.
PMC Research has already conducted value chain analyses on broccoli, raspberries and tangerines together with regional civil society organizations and in collaboration with People in Need, as part of the EU project "Regional Civil Society Organizations Supporting Free Trade with Europe."
"A lack of modern approaches in the process of cultivation, scarce information regarding the potential of DCFTA, and a lack of processing facilities are the key challenges identified in the framework of the studies," declared Khishtovani.
As part of the recommendations, Khishtovani emphasized that "promoting the formation of cooperative institutions, strengthening courses regarding cultivation, storage, and processing in the regional educational institutions, and raising awareness of and introducing modern technologies and approaches can positively contribute to the development of the agricultural sector."
Farmers of agricultural cooperatives from the regions of Georgia, civil society organizations and experts in agricultural sciences participated in the event. The Congress was organized by Bridge Innovation and Development (BRIDGE) and People in Need, as part of the EU-funded program "Civil Society Organizations Supporting Free Trade with European Union."