Discussing How to Fight Corruption in Armenia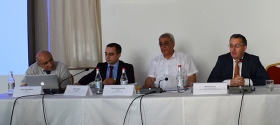 4.07.2018
On June 29, Mr. David Lezhava, Public Policy Sector Director at PMCG, participated in a conference entitled "The anti-corruption policies and measures", which was co-hosted by the Embassy of the Republic of Bulgaria and the EU Delegation to Armenia.
Mr. Lezhava's presentation under the panel "Anti-corruption measures in Georgia – successes and challenges" was focused on sharing the experience of Georgia in effectively fighting corruption and facilitating a business-enabling environment.
He shared Georgia's positive experience of facilitating economic growth by improving good governance and its regulatory framework. He showed how the policies followed led to improved macroeconomic indicators and an improved standing in the Word Bank's Doing Business ranking. Mr. Lezhava also paid special attention to tax and customs reform, the introduction of e-services and the single window principle for various services.
"Key to economic progress is a complex approach that covers various fields, such as tax, customs and trade policy, licenses and permits, and regulatory reforms, each of which has a role in bringing about a corruption-free environment", explained Mr. Lezhava.
"The EU fully supports Armenia in its efforts to combat corruption. The Georgian experience is of particular relevance in this context," said Ekaterina Dorodnova, Head of the Political Section at the Delegation.