Discussing Georgia's Sectoral Integration with the EU at 15th Batumi International Conference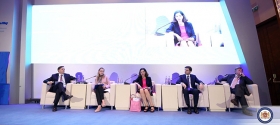 16.06.2018
On June 15, PMCG's CEO and Chairman Aleksi Aleksishvili participated in the 15th Batumi International Conference "Georgia's European Way."
Giorgi Margvelashvili, President of Georgia, Mikheil Janelidze, Vice Prime Minister and Minister of Foreign Affairs of Georgia, Irakli Kobakhidze, Chairman of the Parliament of Georgia, Christian Danielsson, Director General for European Neighborhood Policy and Enlargement Negotiations at the European Commission, and Zurab Pataradze, Chairman of the Government of the Autonomous Republic of Adjara, opened the conference.
The event was dedicated to the European Union and its neighborhood, including relations between EU and Eastern Partnership countries, the EU's security architecture and its expansion policy. Attention was also paid to economic issues such as implementation of the Deep and Comprehensive Free Trade Area Agreement (DCFTA), the transport and trade corridor, sectoral collaboration, energy projects, and business development.
Mr. Aleksishvili moderated a panel dedicated to "Sectoral Integration with the EU." Ketevan Natriashvili, First Deputy Minister of Education and Science of Georgia, Nodar Kereselidze, First Deputy Minister of Environmental Protection and Agriculture of Georgia, Maria Cristina Russo, Director for International Cooperation, DG for Research and Innovation, European Commission, and Ambassador Janos Herman, Head of the EU Delegation to Georgia, all participated in the discussion.
Enhancing the sectoral dimension of institutional cooperation, development of sectoral policies in accordance with EU practices, participation in EU community programs and specialized agencies like Erasmus+, Creative Europe, Horizon 2020, and ENPARD as important tools to promote the compatibility of institutions and to share the best European practices, were the main highlights of the discussion, together with potential future prospects in science, education, innovation and new technologies.