Discussing Effective Implementation of Economic Reforms at "ReforMeter" Introductory Event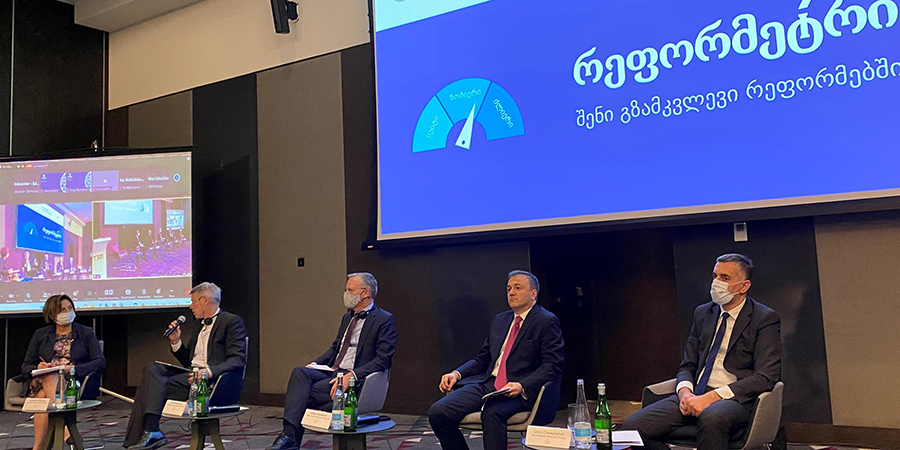 15.11.2021
On November 10, Aleksi Aleksishvili, PMCG's Chairman and CEO, participated as a panelist in an introductory event for the United States Agency for International Development (USAID) project – ReforMeter – organized by The International School of Economics at Tbilisi State University Policy Institute (ISET-PI), and implemented by Deloitte Consulting.
Tamar Sulukhia (Director of ISET and ISET-PI), Peter A. Wiebler (Mission Director of USAID/Georgia), and Natalia Beruashvili (Chief of Party to the USAID Economic Governance Program), all opened the event.
Aleksishvili participated in the panel discussion together with Sebastian Molineus (Regional Director of South Caucasus, World Bank Group) Shane Rosenthal (Country Director of Georgia Resident Mission, Asian Development Bank), and Giorgi Cherkezishvili (Head of Secretariat at Investors Council of Georgia). The discussion was dedicated to key lessons learned from their active support in the implementation of major economic reforms in Georgia and also focused on the role of ReforMeter in tracking reform progress.
"A reform itself does not mean anything. The goal of the reform is to improve the welfare of a population, increase gross domestic product (GDP), and realize economic growth. Therefore, while talking about ReforMeter as an instrument, it is vital to know what we are measuring, to differentiate reform outcomes from outputs, results, and impacts, and to clarify the readiness of governmental structures to engage in efficient dialogue to measure how new reform efforts have progressed against their intended objectives," said Aleksishvili.
The introduction of the second phase of ReforMeter, a platform informing beneficiaries and stakeholders as to how new reform efforts by the Georgian government have progressed with respect to their intended objectives, brought together government officials, as well as representatives of international financial organizations and the private sector.