Discussing Economic Reforms in Central Asia and their Likely Impact on Trade and Investment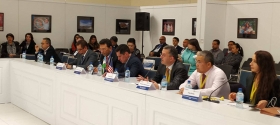 18.10.2018
On October 17-18, Mr. David Lezhava, Public Policy Sector Director at PMCG, participated in the Central Asia Trade Forum (CATF), which was organized with the support of USAID project "Competitive Trade and Jobs (CTJ) in Central Asia" and was co-hosted by the Ministry for Foreign Trade of the Republic of Uzbekistan.
The CATF is an annual event that aims to increase the competitiveness of priority industries and to enhance trade within Central Asia, between Central and South Asia as well as between Central Asia and other foreign markets. This year, the forum's key topic was "New Horizons in Trade and Investment" with a primary focus on discussing how economic reform in Central Asia creates opportunity for greater trade and investment.
Mr. Lezhava moderated a panel discussion entitled "Investment Climate in Central Asia," which was dedicated to discussing recent economic reforms in Uzbekistan and other Central Asian countries and their likely expanding impact on trade and investment. The speakers in this panel discussion were Ms. Tara Blake, Director of International Project Finance at the Overseas Private Investment Corporation (OPIC), Mr. Otabek Muhammadiyev, Country Managing Partner at PwC, Mr. Eldor Mannopov, Uzbekistan Managing Partner at Dentons, and Mr. Scott Hershman, Partner at White & Case.
The event brought together over 1000 delegates in Tashkent, Uzbekistan, including business executives, government leaders and industry experts from Asia, the United States, Europe and the Middle East.