Discussing Challenges and Opportunities of Migration Management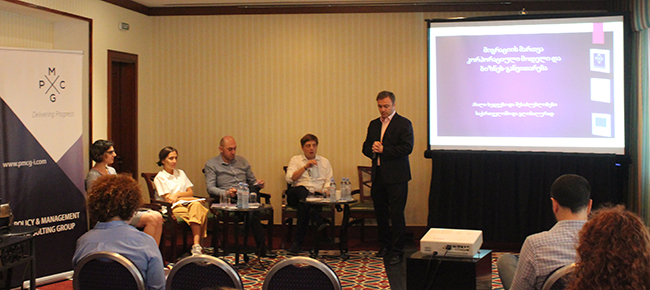 7.08.2019
On July 30, PMCG and the Secretariat of the State Commission on Migration Issues (SCMI) hosted an event to present and discuss a new book entitled "Migration Management – From International Practice to Georgian Model." The book's author is George Jashi and has been published with the support of PMCG.
"We believe that our efforts will advance migration management issues in Georgia and promote further discussion at different levels," said Aleksi Aleksishvili, Chairman and CEO at PMCG as he opened the event.
"The event, which gathered the representatives of different fields from public policy to private business, was dedicated to the highlighting of a nexus between migration and development. Against that background, the innovative approaches, solutions and mechanisms of management have been presented and discussed," explained Jashi, Executive Secretary at the SCMI, adding that "the meeting marked the first step in an action oriented toward initiating dialogue among the relevant players in the field, merging development and high-profile management in a single action oriented toward innovative solutions."
During the meeting, the following topics were presented by the experts of the SCMI secretariat Nino Ghvinadze, Natia Mestvirishvili, and Temur Goginovi: migration and development in the corporate management system; data collection, processing and use in the management system; migration and key components of development and their correlation; and migration strategy and profile – a systematic review.
Even though migration must be oriented on development as a very progressive approach for both, migrants and state, managing such an attitude still splits the views. This publication suggests a corporate system for migration management and describes in detail the significance of coping with the modern challenges and economic opportunities presented by migration.
More specifically, the current and future processes of governance-related reforms at a global, regional and national level are seen in the context of this very system and respectively discussed from the global politics to the micromanagement. The book considers each level separately while evaluating international mechanisms and the Georgian model.
Please kindly follow the link below for the book: