Building Capacity of Organizations in Kosovo to Implement USAID-Funded Activities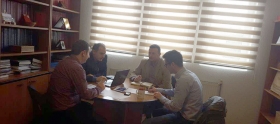 4.03.2016
PMCG was contracted by Chemonics, under the USAID-funded Advancing Kosovo Together (AKT) Program, to accomplish the organizational capacity assessment of the Community Development Foundation (CDF), a local (Kosovo) NGO implementing the AKT Local Solution program.
AKT is a three-year program which aims to foster positive and constructive inter-ethnic cooperation between the majority and minority communities in addressing common problems of unemployment, social needs, and municipal services.
Through February 21 – March 3, PMCG, in tandem with the AKT program component implemented by Chemonics, facilitated discussions among key CDF staff in Pristina, Kosovo to fill out the USAID Organizational Capacity Development Tool (OCAT). Based on the OCA results and identified performance gaps, PMCG will develop a performance solutions package that will be shared with CDF's staff and partners to develop the capacity enhancement action plan and respective resourcing plan.