Better Skills for Better Jobs – Developing Employment and Vocational Education System in Georgia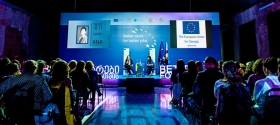 16.11.2018
The summary focused on highlighting the achievements of EU-Georgia cooperation in terms of enhancing the prospects and increasing the employment of the citizens of Georgia. Various activities that have been introduced to improve the links between education and the labor market, and to support matching employers with potential employees, were outlined during the first part of the event.
"About 30,000 citizens of Georgia have been employed and many have received improved vocational education, as a result of the new tools developed," explained Tamar Medulashvili, Project Manager at PMCG.
This event was opened by: Carl Hartzell, Ambassador of the European Union to Georgia; Irina Abuladze, Deputy Minister of Education, Science, Culture and Sport of Georgia; Tamar Barkalaia, Deputy Minister of Internally Displaced Persons from Occupied Territories, Labor, Health and Social Affairs of Georgia; and Levan Gogodze, Deputy Director of the Social Service Agency.
At the same venue, another significant event followed, namely the first edition of Skills for Jobs Talks, during which successful people in their respective fields such as communications expert Tamar Sakvarelidze, industrial designer Zviad Tsikolia, Forbes Georgia's editor Giorgi Isakadze, and branding expert Alex Chikovani told their stories and shared their personal experiences of putting skills at work for a better job and self-realization.
As part of Skills for Jobs Talks, the labor market and vocational education trends in Georgia as well as Europe and economic growth through vocational education were all discussed. Moreover, cooperation between the European Union and Georgia enabled by the program was also talked about extensively.
The importance of vocational education in terms of growing the competitiveness of small and medium-sized enterprises (SMEs) was also emphasized. Representatives of Georgian businesses shared their experiences, highlighted innovative approaches to finding or creating jobs, and discussed the labor market in Georgia.
Both events were organized as part of the European Union in Georgia project, which is being co-implemented by PMCG in cooperation with Media Consulta and aims to raise awareness about EU support for employment and vocational education reform in Georgia.