Assisting the Government of Tajikistan to Strengthen Strategic Planning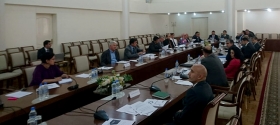 31.08.2018
We are collaborating with the Government of Tajikistan to strengthen its strategic planning and policy coordination and to ensure better integration of its strategic decisions and current policies.
Overall, the project aims to improve budget planning and execution, treasury, accounting and financial reporting functions across government entities by supporting the modernization of automated financial management systems.
In order to achieve its objectives, on August 24, PMCG presented the concept for planning, developing and monitoring strategic documents to high-level government officials in Tajikistan and proposed measures to reform the latter's policy planning system.
More specifically, PMCG proposed: to improve Tajikistan's legislative framework and methodology in the preparation of policy planning documents; to establish a unified policy planning methodology in which the list of documents, hierarchy and interaction shall be determined; and to ensure a coherent connection between policy planning and legislation as well as clear communication between policy planning and the budgeting process.
Moreover, during the meeting PMCG recommended designing results-oriented monitoring, reporting and evaluation systems, and introduced a quality control system.
The project is being implemented as part of the "Public Finance Management Modernization Project II" a component of a wider World Bank project.
As a result of this collaboration, the Government of Tajikistan will improve the effectiveness and transparency of its public financial management.