Assisting Tajikistan to Strengthen its Strategic Planning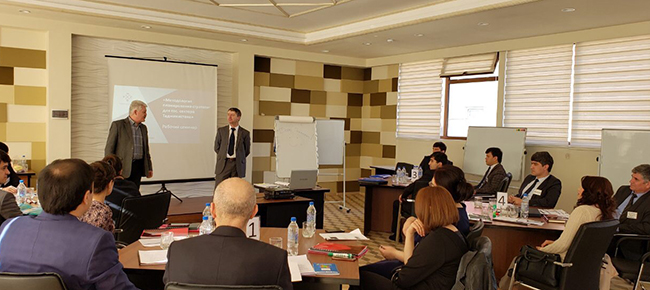 18.03.2019
From March 6 to March 15, PMCG conducted two-day workshops on strategic planning in Dushanbe, Tajikistan in order to increase the capacity of approximately 70 representatives of ministries, state agencies and universities of Tajikistan.
The workshops were based on the Strategic Planning Handbook, elaborated by PMCG as part of the World Bank project "Strengthening Strategic Planning in Tajikistan," initiated under the Public Finance Management Modernization Project II (PFMII).
"As part of this project, we developed a strategic planning methodology and templates for sectoral strategies. Besides the methodological support, it is important to increase the capacity and the knowledge required to perform functions of strategic planning. Therefore, we designed a training module for key staff of relevant ministries and agencies involved in the design of sectorial development strategies," explained Zaza Broladze, Team Leader of the project.
"I would like to note that during the workshops we gained a lot of useful and practical information, and examined the mechanisms for strategic planning as well as the procedures for the preparation of sectoral working groups on strategy formation and government programs. As a result, I have studied the methods of analysis necessary for my everyday professional activities", said one participant of the training.
Overall, the project is intended to strengthen strategic planning and policy coordination and to ensure better integration of strategic decisions and current policies in Tajikistan.
Please kindly follow the link below for detailed information about the project: