Aleksi Aleksishvili Discussing about Successes and Challenges of Georgian Economic Reforms at the Regional Conference Supported by European Union and The World Bank Group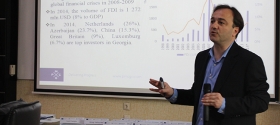 4.06.2015
On June 4, Aleksi Aleksishvili, Chairman of the Board at PMCG, participated in the regional conference entitled "Budget Issues and Fiscal Policy in Caucasus and Central Asia", organized by the Academy of the Ministry of Finance of Georgia and supported by the European Union (as part of its support to Public Finance Policy and Management reforms in Georgia), The World Bank and Louis Berger.
As a former high-level government official and the author of a series of reforms in public finance, tax and customs policy and administration, Aleksishvili presented the challenges faced by the country and talked about the steps the Government took to deal with them.
Highlighting the importance of a complex approach, he discussed the main components, such as: liberal fiscal and trade regimes; improved budget policy and public services; structural reforms; fighting corruption; privatization; legal framework; and property rights.
Aleksishvili gave the guests examples of the reforms' results reflected in the growth of GDP and FDI, as well as the enhanced business environment recognized by The World Bank Doing Business Rankings among other positive impacts.
The conference started on June 3 and will run until June 5. The event has brought together representatives of governments from Central Asia, the Caucasus and Turkey, and international organizations.
Possessing in-depth understanding of the region, speakers will discuss topical issues as: Public Finance Management reform in Georgia; monetary policy and response to external shock; successes and challenges of Georgian economic reforms; and macroeconomic developments in the region.