Adjara's Development Strategy for Stronger Economic Growth and Development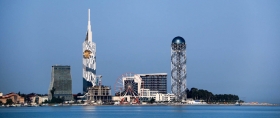 14.08.2015
The Government of Adjara continues actively working for the welfare and for the better living standards of its citizens by facilitating effective Regional Development Strategy formation.
Realizing that effective strategy needs strong foundations, the Government of the Autonomous Republic of Adjara (GoARA) together with GIZ contracted Policy and Management Consulting Group (PMCG) to assist the government to analyze the current situation in-depth.
Regional economy and infrastructure; education, culture and sports; environment protection; agriculture; and social welfare and healthcare are the five main areas PMCG will study.
According to the analysis of the collected data, PMCG will formulate strategies and priority documents for Adjara line ministries and support the implementation phase by developing performance monitoring instruments.
The strategy has crucial importance for the further development and economic growth of the region. It will unite all the ministries' strategies under one umbrella and contribute to long-term and profound planning, so that financial and human resources will be allocated according to the priorities defined in advance.
The project represents the first phase of a larger initiative that should help the region's government to develop a Regional Development Strategy and set up functional mechanisms for implementing, monitoring and evaluating the Strategy. Having extensive experience in developing regional development strategy and action plans, PMCG was selected to conduct context analysis of these five main sectors.
During the past few years, PMCG has been successfully involved in the strategic planning processes accomplished in several line ministries or departments of Adjara (Ministry of Agriculture, Department of Tourism and Reports, Adjara Forestry Agency). Furthermore, in 2012 PMCG assisted GoARA to design the monitoring and evaluation format and tools of the ARoA regional development strategy.